What is holding you back from Homesteading? (or growing your homestead to the place you want?)
For most of us, lack of MONEY is the main problem.
For those of you who would say that it is your lack of time, that just means you're too busy with work and you're working to earn money, so….
Most of us don't get to spend the time we really want to enjoying our farm dreams, because we have bills to pay and mouths to feed. 
How can we change this?
This week we released the latest episode of the Podcast. In this episode we get some great advice from John Pugliano, of the Wealthsteading Podcast, on how to grow our wealth, so that we can make our homesteading dreams happen. (HE ALSO SHARED SOME AMAZING INSIGHTS IN A BONUS PIONEERS ONLY EPISODE… see more below Pioneers!)

John is a very "Homesteady" guy. He is very big on preparedness (Prepping) and his financial advice comes from an angle of someone who understands the farm dreams we all have.
In this episode John Shares 7 lessons about growing wealth, which you can read about HERE.
It doesn't matter where you start.
Identifying what wealth actually is.
Don't Believe the Myth
Saving Money is Just as Important as Making It
Don't Quit Your Day Job
Monetize what you enjoy doing
The Opportunities Will Come
John said that most of the "Millionaires Next Door" (normal guys who become very wealthy) do so through starting their own businesses.
I am NOT wealthy. I am NOT a millionaire next door. Lately I have been excited to just be a thousandaire….
I have noticed the difference that self employment has made in our life though.
Being self employed has allowed me to have more freedom. I am able to make more money than I used to in less time than before.
Recently I was asked on Facebook about what I do for a living, and how I pay for our homestead life. So we started covering this topic on the YouTube channel.
This week we discussed How to Make Money for your Homestead

The main topic in this video was the idea of diversifying your income.
Even if you have a full time job, you can start a side business.
If you diversify your income, you're protecting yourself from loss of income in the future. If you have a nice side business, and someday you lose your job, you may find yourself in a position to go full time on your side business!
That is what happened to me… Kinda…
Years ago I started my first side business. It was my Farm business. Over the last five years of running a small farm business we have tried all kinds of enterprises. We sold eggs and veggies. We ran a pastured pork CSA. We taught on farm and off farm classes about farming, butchering chickens… All kinds of enterprises.
In this video we discuss how each of those performed for us. (My beautiful wife is on the thumbnail of this video, I am getting lots of angry remarks on Youtube that she is actually not in the video… haha. Bait and switch, you just get a video of me 😉

Ultimately, our favorite income from the farm is our Pastured Pork CSA. Each year we have lots of repeat customers, and we can fetch a premium for the product. Plus, I LOVE raising pigs.
In this video we explain how we earned $3790 raising pigs this year, and whether or not that was actually a "profitable" enterprise on the farm.

Starting a small business isn't easy. But if you work hard at it you may find that it leads you to some amazing opportunities in life. It has for me!
John went into depth on the topic of how to start a small business doing what you love and using that to make you wealthy, in a Pioneer's Only episode of the podcast, available in the Pioneer Library.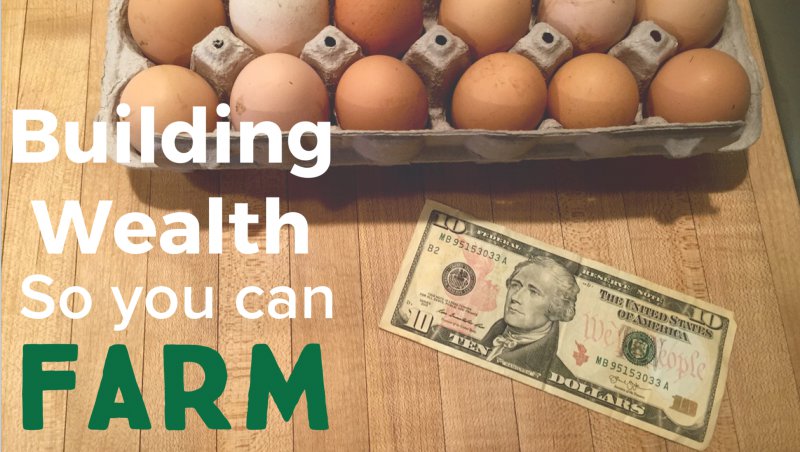 If you want to enjoy that episode you can BECOME A PIONEER, we are running a sale, $40 for a year long membership. That sale ends Monday, so don't miss out.
I hope that all this advice on wealth, money, and business can help you do the most important thing. (Not make a ton of money… That isn't my goal anyway. I have no desire to be like scrooge mcduck, swimming through pools of coins by myself.)
Instead, use this advice to help you get to a place in life where you can spend as much time as you would like to on your homestead with your family. That's my goal.
Aust