How Do Fly Predators Work? Find out in today's video.
CHECKOUT SPALDING FLY PREDATORS – (NOT SPONSORED OR AFFILIATE… JUST A HELPFUL LINK)
Flies can be a real problem on a homestead.
Ladybug our cow is blind in 1 eye because of a complication of a disease a fly infected her with (that happened before we owned her, but we still take the fly problem seriously). Flies cause your animals discomfort, can weaken their health, and slow production. They need to be controlled as best as possible on your homestead.
There are lot's of solutions on the market that claim they will help your farm and animals with fly control.
Last year we tested multiple fly sprays, even pitting conventional fly sprays with more natural sprays to see which ones worked better.
Our results showed that sadly the more natural fly sprays did not have a long lasting effect. The chemical fly sprays did better in our test for keeping flies away for long periods of time. But even these chemical sprays wore off.
We would like to find a better solution to our fly problem, one that requires less chemicals and works long term. 
That is why this year we have decided to try out fly predators on our farm.
Fly predators are small parasitic wasps (they don't sting people… so no need to be afraid of them) that are used to kill off fly populations. These small wasps interrupt the life cycle of the flies that bite your livestock.
How do fly predators work?
When you order fly predators you will receive a bag in the mail, full of sawdust, eggs, and adult fly predators.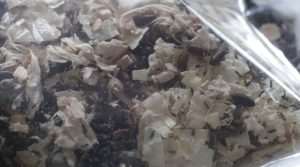 Open the bag once you see about 10+ adult fly predators buzzing around inside the bag.
Sprinkle the contents around your homestead in areas that flies are likely to lay their eggs. Fresh manure, decomposing hay or feed.
MAKE SURE you don't release your fly predators in the chicken run, as chickens will eat them up!
Adult fly predators will hatch from the eggs they were shipped in. They fly to nearby piles of manure. Then these adult fly predators will find the eggs of bitting flies and lay their own eggs inside the cocoon of the biting flies. As the fly predator eggs hatch the larvae will consume the eggs of the biting flies, killing of the next generation of biting flies before they can hatch, and decreasing your fly population long term!
Do fly predators really work? 
This is our first year testing these fly predators out! We have heard first hand from other farmers and homesteaders that they are a really good solution to the fly problem, but we will see how they work on our own homestead in time. We have signed up for a subscription this season. Every month our fly predators will arrive in the mail for us to sprinkle on the property. At the end of the season we will do a follow up  video to tell you what we think!
Is this your first time here at Homesteady? Join our Email List so you don't miss out on our daily homesteading videos and podcast episodes!
CLICK HERE TO JOIN THE EMAIL LIST
CLICK HERE TO SUBSCRIBE TO OUR YOUTUBE CHANNEL
CLICK HERE TO SUBSCRIBE TO OUR PODCAST