Looking for the Wild Harvest Class?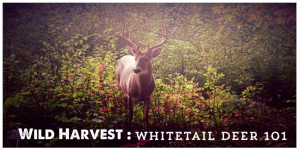 On this episode of Homesteady, we explore the lifestyle of the modern hunter. We will be examining both the facts and the feelings that come into play when decided whether hunting is an ethical option for feeding one's family. With scenes from Bambi resonating within the formative memories of Aust's childhood, we are going to re-examine the discussion on hunting: Is it wrong? With such easy access to food, do we need to head into the woods with a gun?
This episode is for those of you who are not currently hunters. We ask that you listen to this episode with an open mind as we present the facts and feelings on hunting from multiple perspectives.We know that Aust is a hunter now- but we learn that he wasn't always this way. After learning about factory farming, Aust and Kendra wanted a healthier option for their growing family. Once figuring out that hunting was the most affordable option for his family, Aust became a self-taught hunter, and soon after harvested his first deer.
"At a base level, every single one of us is a hunter." Tyler Sharp, the founder and creative director of Modern Huntsman, our first hunting interviewee, takes an historical perspective on hunting that he is aware can be polarizing amongst mixed company. Growing up in Texas, he grew up with hunting as a typical part of his culture. Once he moved to California to college, and disclosed his experience filming hunts to his peers in his photography and film classes, he was made aware that many regarded his experiences with gross disdain. As friends close to him expressed they found hunting appalling, Tyler was pushed to search within himself why hunting was an ethical choice.
Spending several years in Tanzania filming safaris post-college, Tyler filmed and photographed the hunting safaris for an established outfitter on a game reserve. Living in the Kilombero region for several years, Tyler had the opportunity to learn outdoor skills from those in the region- and come face to face with a lion.
The takeaway? To be a good hunter, you have to be a good outdoorsman, and be comfortable spending a lot of time there. Also- hunters love animals. Surprised? It was after his encounters with animals that Tyler decided that hunting was actually the best thing one can do to take care of wildlife.
After three years living in the bush and hunting in Africa, Tyler shares these facts about hunting that support his perspective:
Fact #1: There is a difference between hunters and poachers.
Fact #2: Hunters produce more money than any other group when it comes to taking care of our animals.
Despite the fact that it is unfashionable to be a hunter, Tyler argues that hunting can be an ethical lifestyle choice.
Brad Neathery, our next guest, is the co-founder and CEO of Modern Huntsman. Since childhood, Brad has seen a different side of what a modern hunter could be.
"Hunting was essentially a medium to pull together some father-son bonding time. To be honest, we'd rarely pull a trigger, because we got lost in conversation more than anything else."
Brad does, however, have an issue with mainstream general media, and mainstream hunting media, in its portrayal of hunters. He feels that the image portrayed has been homogenized to one stereotype in most American media. Instead, hunters need to be portrayed in all the diversity they represent- traditional tribal hunters in Tanzania, master trackers, fathers and sons in Texas, husbands and wives learning together to hunt in adulthood. The media celebrates those who are in it for shooting, as opposed to those who use and respect all parts of the animals they harvest.
BUT HEY- Did you know you can purchase meat at the supermarket? So why hunt?
The emotions you experience while hunting, as beautifully detailed here, by Eamon Waddington, are not the same as those you experience when finding ground beef for 99 cents a pound in your grocer's meat case.
"My anticipation had my heart pounding – whatever was in front of him was close. I hold back every urge in my body to get closer and peek over his shoulder like a curious child – the suspense was killing me."
The Modern Huntsman Magazine portrays this alternative view of hunters. In finding and sharing stories about hunting that sit with the hunter's remorse of taking a life, and their gratefulness for the harvest of the animal, and the details of their acquired skills, Brad shows that many hunters are thoughtful, respectful, and keepers of tradition. The alternative narrative he presents is a stark counterpoint to mainstream media's homogenous bloodthirsty portrayal of the hunter.
Food for thought, to be sure.
Thank you to Brad and Tyler at the Modern Huntsman Huntsman for sharing their stories, perspective, and their mission. To make Modern Huntsman a reality, visit their Kickstarter campaign to support the first issue.
$5 off an edition of Modern Huntsman for Homesteady backers!
Are you homesteady? Help us find YOU on social media with the hashtag #iamhomesteady.
Thanks for your patience with our current slow production schedule! Stay tuned for our plans for 2018 in our December podcast!
Also, have you supported us by becoming a Pioneer? If not, you can join us here for tons of free classes, videos, bonus podcasts, and discount codes for some of our favorite vendors.