Do you save money hunting?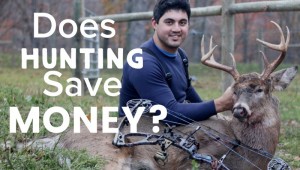 This is a tricky question, with many answers, but I thought it would be fun to do a quick breakdown….
First let's consider what harvesting a deer is worth in meat value.
When I harvest a deer and butcher it myself, a smaller deer yields around 40 lbs of free range, truly organic meat. A larger deer is double that.
When I butcher a deer, I generally break down the hind quarters and loin into steaks, and turn the rest into burger.  One third of the deer becomes steak, and two thirds burger.
So what is the value of that venison? The best comparison would be to take the price of local, pasture raised meat, and compare the cuts.
At our local farmers market, basic pastured ground meat generally gets somewhere around $10 per pound. The better quality steaks fetch $15 per pound or higher.
So a smaller deer would be worth $525 in meat (relative to your local farmer's market meat prices).
A bigger deer could be worth $1000! 
That sounds amazing, right? $1000 dollars, just walking around the woods, ripe for the taking!
But before were finished with this breakdown, we need to consider the cost of hunting…
( I am afraid my wife will read this article and make me stop…. gulp)
A new hunter, with no gear already, has a big investment to make.
In this video, I share all the gear I take with me on every hunt. Not ALL of this gear is essential to get started, but I use most of it on every hunt.

When a hunter is brand new, they need to buy
a weapon
hunting clothing
treestands or blinds
gear – (flashlights, knives, rope, deer calls)
first aid equipment
A new hunter can easily drop $1000 their first year in. 
BUT…. you don't have to. A new hunter could start with the bare minimum, a new Rifle and scope ($600). Get some warm clothes you already own, and head out…
My first season I spent about $600 into a bow and arrows, bought some cheap Walmart camo clothing and hit the woods.
So somewhere between $500 and $1000 will be spent in your first season. We have some good concrete numbers, but we still need to consider one thing…
Before we make our final calculation, let's talk about the time investment.
This is another highly variable factor. Some people live in places with lots of deer, others are excited to see one deer all season.
If you are fortunate enough to live in a place with a lot of deer that still is no guarantee of success. A person's skill comes into play too.
A new hunter is more likely to spook deer before ever having a chance to harvest one. It took me a whole season's worth of botched encounters to finally get my first deer down.
But… When I finally did, everything changed…
My first season I invested around $600. I got zero deer. So not worth it.
BUT I learned a ton, and by season two, I had four deer in the freezer. Somewhere around $2500 worth of meat.
So the final calculation, does deer hunting save money?
$600 investment, $2500 worth of meat, That math checks out! 
For the next few years I was able to put 4 deer in the freezer. More recently I have managed an average of 2 per season, although I have become much pickier in the deer I shoot.
Over those years I have purchased a lot more equipment, increasing my investment. More tree stands, a better bow, hunting blinds, gear….
So does Hunting deer actually save us money?
The answer is sometimes. Some seasons are better than others. This season I spent only $150 or so on hunting (ok, actually it was $300, I spent an additional $150 on an out of state hunting license, but that isn't necessary for a hunter to do if they just hunt their home state) and I shot a big buck, after only 4 days of hunting!
$750 worth of meat, $150 spent, 4 hunts of about 3 hours each. That's like getting paid $40 an hour to hunt. I can live with that!
(If you want to hear the buck hunting story, I share it in this video)
But not all seasons are that good. Last season I hunted more than I ever had, and I only harvested one small deer, probably less than 40 lbs of meat. So not so good.
At the end of the day Hunting has good potential to save you some money, if you're smart with your purchases and time investment. 
But one thing is for certain. Whether it saves me money or not, I enjoy a morning spent in the tree stand 100 times more than a morning spend in the office. If I can put some meat on the table, while doing something I enjoy, than that is worth every minute spent!
If you you would like to learn how to hunt take our Hunting Video Course, the Wild Harvest Whitetail 101 Course. ON SALE NOW!