Morel Mushrooms are hard to spot in the woods. Sometimes it is easier to learn what kind of tree do morel mushrooms grow under,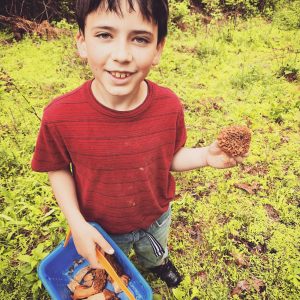 then look for that tree and fill your basket!
It is Morel season in PA. I knew my Brother In Law had Yellow Morels growing on his farm, and so we decided to plan a walk in the woods to find them!
Before we headed out into the woods I watched a video Jared, the Foraging Beard, made that is all about where to look for morel mushrooms.
In his video  Jared specifically mentioned looking for dying elm trees. These trees have a unique bark and large buttressed roots. Jared said to look for these first, and that when you find one, usually you can find some morels growing underneath.
We headed out to the farm and headed into the woods. Nate my BIL knew the area he had spotted morels in years past so we headed that direction.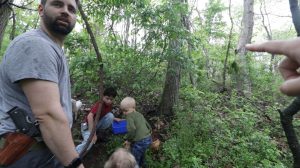 Sure enough, right under a dying elm…. we found our first pile.
We gathered a few giant yellow morels there, and then headed down the path further. We checked in the bushes, next to the path, under some other trees in the area, but it wasn't until we found another dying elm tree that we loaded up our baskets with more mushrooms.
After those first two spots were cleared we spend another hour walking the woods, with no more finds.
Mushroom hunting is a fun way to spend time outside, and when your looking for morel mushrooms, be sure to first look for dying elms, as they will be a landmark to guide you to full baskets!
Is this your first time here at Homesteady? Join our Email List so you don't miss out on our daily homesteading videos and podcast episodes!
CLICK HERE TO JOIN THE EMAIL LIST
CLICK HERE TO SUBSCRIBE TO OUR YOUTUBE CHANNEL
CLICK HERE TO SUBSCRIBE TO OUR PODCAST