8 weeks since my first compulsive chick buying experience.
No longer were these cute little chicks who come running to eat the ants I brought them.
These were roasters.
That's what I told myself all morning long. I must admit, getting ready to do my first flock in made me anxious. The first one was, of course, the toughest.
With our son napping, Kendra and I went outside, and got started. There was one rooster in the flock, so we decided he would be first. I grabbed him by the legs, and led him to the cone (milk jug hung upside down, nailed to a tree). After placing him upside down, and saying a quiet prayer of thanks, I cut his throat.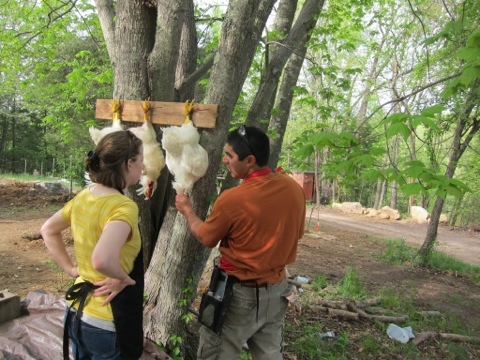 I'd like to say it all went smoothly. It didn't.
The milk jug we had nailed to the tree collapsed under the weight of the chicken, sending him over sideways. Kendra quickly grabbed his legs, and kept him from falling. Lesson learned… Don't skimp on your butcher equipment.
Kendra made me save one for her. She felt that she needed to kill one. If she was gonna eat it, she had to be able to take on the responsibility of killing it.
"Bring her over" I said.
"Don't call it her" she said.
"Call it…it"
She couldn't look "it" in the eye. Leading up to the kill, you feel a knot deep in the pit of your stomach. The hardest part is the walk from the coop to cone.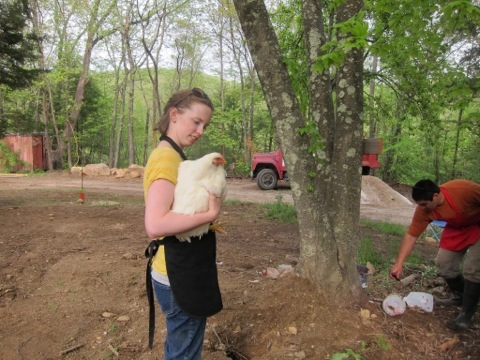 But once you flip that chicken into the cone, the knot leaves, and it's all business from there. All you're concerned about at this point is making a clean, quick kill.
Our friends arrived soon after, friends who had helped build the coop, friends who were teaching us the ropes, and friends who'd won free chicken on Facebook 🙂
There's a funny thing about a chicken butcher party. You start off solemn, respecting the life you're about to take, but by the end of the night you're just laughing and enjoying time with friends, preparing delicious food. That's the beauty of local food, it brings the community closer, and it's good food too!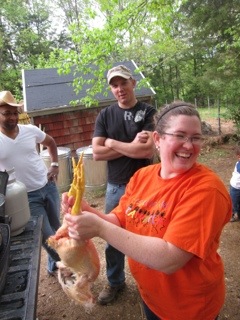 note:
We are getting ready to process our next flock. If you're interested in purchasing please contact us!
Also our butcher class is free with the purchases of a chicken, so if you really want to connect with your local food scene, join us!