How Much Food Can I Grow In a Raised Bed? This was the question we set out to answer in the first episode of Homesteady, the podcast for homesteaders, farmers, country dwellers and dreamers. 
Before we moved to the farm, we had a garden. This was long before I ever considered hunting, raising pigs, or milking goats. Since then we have moved on to much bigger projects, but it all started in the garden at our old apartment!
That is why we suggest that every homestead journey start with at least a small raised bet, potted plant, or window box! Because container gardening is an easy way to start gardening, and it will begin you down a path of sustainability!
How Big do they need to be?
Will a raised bed give you more yield than a traditional in ground garden?
How many Tomatoes can you grow in a year in one raised bed?
And will Accountant Mike sign off on this idea? Listen to episode 1 of Homesteady to find out!
How Much Food Can You Grow In a Raised Bed? 
Obviously this is a hard question to answer. There is lots of different methods, and skill levels that can alter the answer to this question.
We decided to figure out whether or not the average gardener could save money building a raised bed from scratch, and perhaps even earn money down the line, selling some surplus.
In this episode we break down the economics of a raised bed, to see what a homesteader could expect to spend, and then yield, with raised bed garden.
The Raised Bed Breakdown
Spend $93 – you can buy the raised garden bed kit pictured here.
Shopping List
The Greenes Raised Bed
The Dimensions of this bed are 4'x8'x10.5″. That requires 30 cubic feet of soil needed
If you are buying good quality organic soil, our figure locally was $180
Then some mulch for the top of the bed $30
TOTAL SPENT ON RAISED BED YEAR 1: Around $300
Now, onto plants. Lets say your buying Tomatoes Transplants, its $17 per plant average.
Expect 5 to 10 lbs harvested per season – 5 to 10 lbs for average "good" gardener
This setup can fit 6 plants
TOTAL TOMATOES HARVESTED FROM THIS SETUP: 120 Tomatoes from 6 plants in one raised bed
Compare Organic tomatoes at$2 per tomatoes, the same amount of our raised bed would be $200-$400 worth of tomatoes
TIME INVESTMENT: If you factor in about 20 minutes a day spent maintaining your raised bed, 7 days a week, for 5 month growing season, that means you spent 49 hours of work to maintain these tomatoes. 
Takeaway:
Startup cost is high in a raised bed, because of the soil, mulch and materials. But this startup cost is only needed in the first year.
Considering the time spent, and investment up front, we found that the first year you will not really save or make money, however, by the second year you can break even or pass your investment in time and money, and by the third year your raised bed it profitable!
Remember, that is of corse counting on the idea that you have ways to store, put up, or sell your harvest. $400 worth of tomatoes will do you no good rotting on the shelf.
Why container gardening is great for beginner gardeners… and everyone else!
How To Build a Raised Bed in 3 Hours 
Build a raised bed for Tomatoes

Accountant Mike "does the numbers" on a raised bed with 6 tomato plants.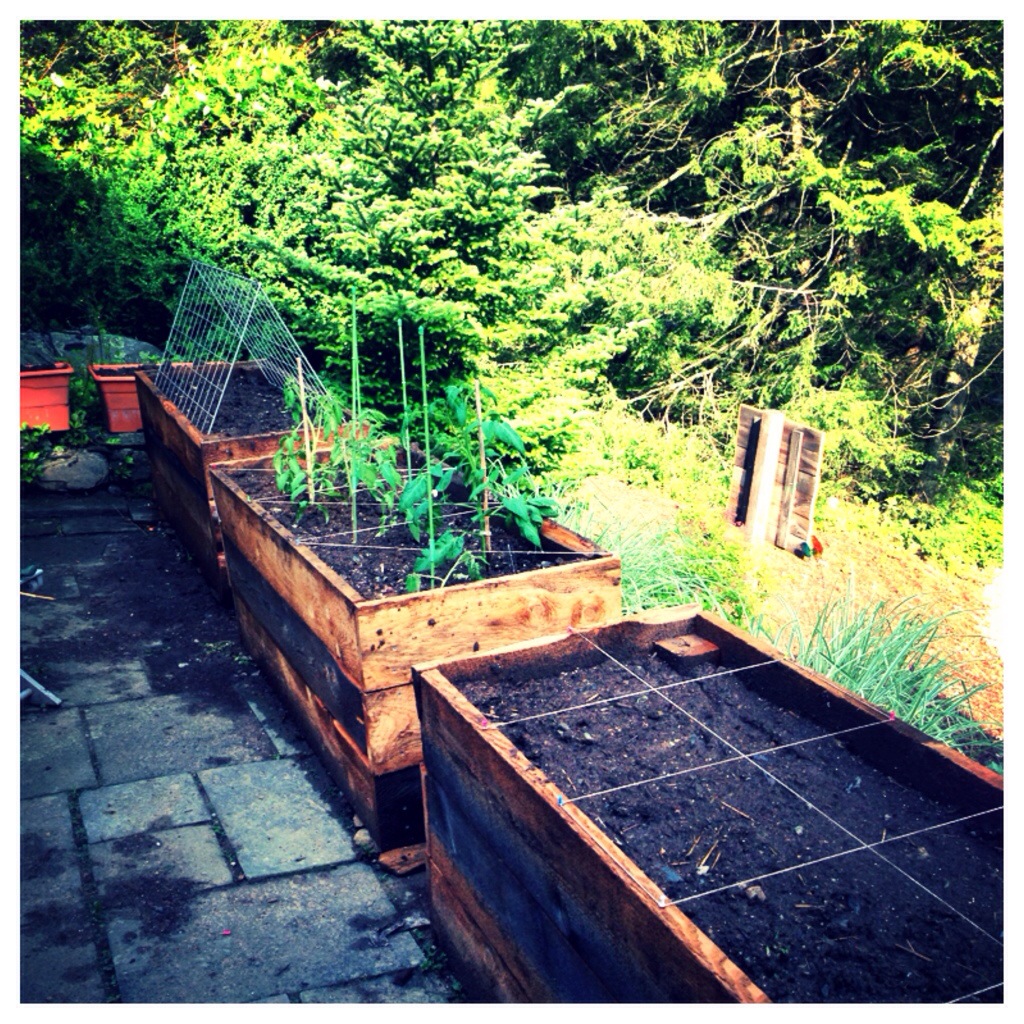 What will it yield in $$$MONEY$$$ for you? and How soon will it pay itself off?