Since the very first episode of Homesteady, we have been asking the question: IS THIS WORTH IT? Will the investment of your time, money, and energy into your latest homesteading endeavor give you a return? And how do we measure these returns: financially, emotionally, in terms of gains in personal health and nutrition, or more broadly in relation to overall environmental sustainability?

On this episode of Homesteady, we take an in-depth look on our LIVE YouTube stream to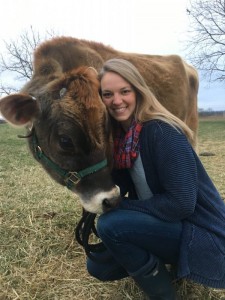 examine, even more closely, The Family Cow. In a Homesteady first, Emily, our guest for tonight, was invited onto the show after she sent Aust an email highlighting the missed points on the first family cow episode. Emily OWNS a family cow and Aust and Accountant Mike engage her tonight in a live discussion, fueled by viewer questions, to truly examine the family cow from every angle.
Emily lives in mid-Missouri on three acres, with a small garden, chickens, three farm cats, and a family cow. Emily knew two years prior to even purchasing her homestead that cows "spoke to her." Their calm nature and her affinity for butter made the acquisition of Caroline Faith, Emily's first year heifer, an inevitability. After extensive preparation through self-directed education via classes (like these ones), blogs, books, and farm visits, Emily and her husband procured their farm and are now immersed in cow ownership. Being a new cow owner has come with its challenges.
Emily reflects on her challenges and mistakes with the insight that regardless of her preparation and research, experience brings it all together. Emily met challenges almost immediately when her cow caught shipping pneumonia on her way to the farm.
The level of sustainability a cow offers to a family is substantial. This is the hardest part of cow ownership to put a price tag on. Aust and Accountant Mike based their first breakdown on raw milk consumption. Would it be cheaper to have a cow than to purchase gallons of raw milk? In her letter to Aust, Emily focused on the missing pieces of this argument: what about the other dairy products that are produced with milk? The savings on producing these products at home needed to be compared with the prices paid for artisan products at your local grocery store or specialty shop. Emily also compares the prices of fertilizer compared to obtaining compost and fertilizer by collecting the cow poop. All the other livestock can eat sour milk as supplemental feed, like these pig farmers do.
Is Accountant Mike Convinced? Reflecting on all the factors previously considered, and adding in the additional points brought up by Emily, Accountant Mike is forced to reconsider.
Are you a Pioneer? For only $5/mo, in addition to all the incredible Pioneer-only podcasts, interviews, and classes, we are now offering a Pioneer-Only Aftershow. At 10:00 EST on Tuesday nights, enjoy a live forum with Aust, Accountant Mike, and the special guest of this week's livestream. Head over and become a pioneer today!
Thank you to our sponsors for making Homesteady possible!
Thanks to our friends at Prepper Broadcasting for streaming our Tuesday night live show.