That was too punny. Im sorry.
CUT the price… And this is about learning to butcher meat…
Yeah, sorry about that. But I had too.
If you want to grow your own food I personally believe meat is a great place to start.
If about 30% of your plate is meat, and you learn to grown or hunt all of your families meat,
then you are proving your family with 30% of their entire diet, and that is incredible.
Believe it or not it isn't too impossible to raise and hunt all your meat. K and I have done it for years!
We raised Meat Chickens and Pigs to fill our freezer with pork and chicken.

And then for red meat, instead of raising beef (which for a while we didn't have enough land for) we hunted deer.
Those three meats combined gave us enough steak, burger, sausage, and cutlets to last our big family all year!
That said, it does take time, and you probably shouldn't try to do it all at once.
Better to over the next few years learn one meat at a time and grow until you are doing it all yourself.
Until then, you can buy your meat from good local farms, raising the best quality meat around!
The only problem with buying farm fresh meat is the expense.
At the farmers markets around me it isn't surprising to find ground meat selling as high as $10/LB, and the better cuts are twice that price.
That is cost prohibitive for many families (ourselves included).
That is why you need to learn the art of butchering.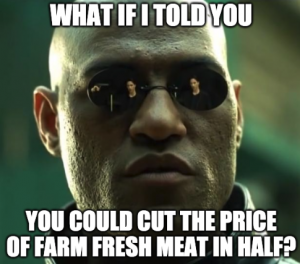 If you learn how to butcher your own meat you can save 30-50% on farm fresh food.
I raised and sold pigs for years. Butcher fees were literally HALF of my production costs.
I had a few customers who would buy the pig whole from me and do the butchering themselves.
People who butcher their own meat save a ton of money every year.
Setting up a butcher space at your home isn't hard. In a video this week I showed a super simple at home butcher setup.
And don't be scared to learn to butcher if you are afraid of using a gun, or killing an animal.
I could have a live pig shot by a butcher and gutted for $60. Not too much money for someone else to do the dirty work.
From that part you are just cutting steaks.
Cutting your own steaks can save you HUNDREDS OF DOLLARS of each animal, which results in literally thousands of dollars every year.
Are you dreaming of a homestead life you don't yet have?
While you dream, learn to butcher, save money by butchering your own, use that saved money to eventually buy your dream homestead!
And when you finally raise your own pigs, chickens, cows, or ostrich, you will have all the skills to butcher them yourselves!
Tonight Jamie Waldron, a guy with almost 2 decades worth of experience in the world of butchering, will be joining us to talk about the world of home butchery.
Jamie will share how it can greatly increase your home economy by taking control of how you purchase meat and providing you with more flexibility by purchasing whole carcasses!
Homesteady Pioneers can JOIN US LIVE HERE at the live from the barn show. Jamie will be joining us at 5 PM Eastern Time to talk and answer questions.
Can't join us live? Email me a question in response to this email and I will read it to Jamie, and pioneers can watch the entire replay in the Pioneer Library
NOT A PIONEER? BECOME ONE HERE AND JOIN US TONIGHT!
Hope to see you for the show!
Butcher Wannabe Aust