Over eight years ago when I first launched the Homesteady podcast, in the introduction to the show I said
"The world that we live in is a crazy place"
Recently we brought this introduction back to the podcast because, honestly, it feels like the world is even crazier than it was eight years ago.
When I sat down with Jack and Jackie from the mindful homestead to record today's episode it was just after the school shooting that took place in Texas.
That shooting was a horrible tragedy.
We try to steer clear of current events on the podcast, things that can get political quickly and divide people.
This is a show where we try to unite people on a subject that can bring happiness, security, comfort, and this episode is not different.
We don't talk about these current events any more than I already have.
But, we do discuss how our homestead can shield us from all these crazy events, and my guests, Jack and Jackie had a lot to say about that!
Jackie is a licensed therapist, who couldn't use a little insight from a therapist in the wake of these events, and Jack and Jackie together have built an incredible homestead a life that has brought them peace, happiness, security.
I think today releasing this episode, we're in the wake of another public shooting, every day you turn on the news there's just something you can be worried and anxious about, this episode is here to help those of you who want to get started.
Jack and Jackie have been walking this path for a while there's a lot of great advice you can find on getting started.
It all started with a subscription to Mother Earth News… 
How many of our homestead paths begin this way? Haha…
Jack's homestead life, unbeknownst to him, began this way.
"When i was in college I think it was my mom bought me a subscription to mother earth news. This is like early 2000s, I was like punk rock kid in college and I was like why is my mom getting me this this hippy dippy magazine where they're talking about like you know making my own compost tea?"
At the time Jack was a 'ski bum', living in a resort town which was very dependent on the single grocery store in town.
"I kind of saw I was living in an area I couldn't have a garden because I was in a condominium and it just it it made me realize like if this grocery store closed down I'm screwed. I don't have a way to grow food, I could go out and forage in the forest around me but that's a seasonal thing you know there's three feet of snow on the ground in the winter time. It kind of made me realize that maybe there's something to this and I should pay a little bit more attention."
"I was always a big fisherman, I kind of made that transition from fly fisherman that was fishing for trout in the mountains to now looking at fishing as one way to provide food for my family. Then I got into hunting. A few years later we bought the property and we got chickens."
Jackie DID NOT WANT CHICKENS.
Jackie, at the time, had a big fear of birds…
"I want to support Jack 100% in his endeavors, and this was his thing he really was passionate about. I did the best i could, but I was not a happy camper about it. I hated things flying and flapping, I was actually terrified of chickens."
SO how did Jackie overcome this fear?
Exposure Therapy… The trick to Convincing your Wife (husband, partner, etc) to Get Animals on your Homestead
Jackie explained how she used a technique used by therapist to help people overcome fears to overcome her fear of birds.
"I went to the neighbors and I just hung around the chickens. They gave me a little scratch grain, I would throw for them, out they'd come. Exposure therapy puts you in a situation where you know it's there, right in front of you, and there's really nothing you can do to stop it. You're part of the process at that point. It's small steps."
It worked. Now Jack and Jackie have somewhere north of 30 chickens (they have lost count) 13 ducks, 26 turkeys, and then there's currently 36 meat birds out in the Suscovich Chicken Tractor.
LOTS of BIRDS!
And of course, What is probably the Mindful Homesteads Flagship animal, PIGS! 
There are 10 pigs out getting ready to go on pasture.
Jack actually blamed me for this..
"Aust, you are the one that basically convinced me to raise pigs to sell for profit in addition to supplementing our homestead."
Jack probably stumbled across this video sometime in his past…
I have been blamed for worse things… 😉
Jack and Jackie raise a couple pigs for themselves each year, and then they raise a bunch more… (8 currently) for customers.
"We raise 10 pigs a year, we don't eat 10 pigs a year, we keep two for us, so those those eight pigs are sold and they help offset the cost of raising our own food."
Selling pork direct to consumer, Jack accidentally stumbled into another business… SOAP!
"So the pig soap thing started because every year around processing time I found myself with literally half of my chest freezer filled up with pork fat. You can only make so much sausage. The animals weren't processed at a usda facility, so I couldn't legally sell that fat as fat back that people could either turn into food or render for lard.
I was just laying in bed one night and I said you know what, I'm gonna make soap, and i'm gonna make beard care products, and i'm gonna call it the dapper pig."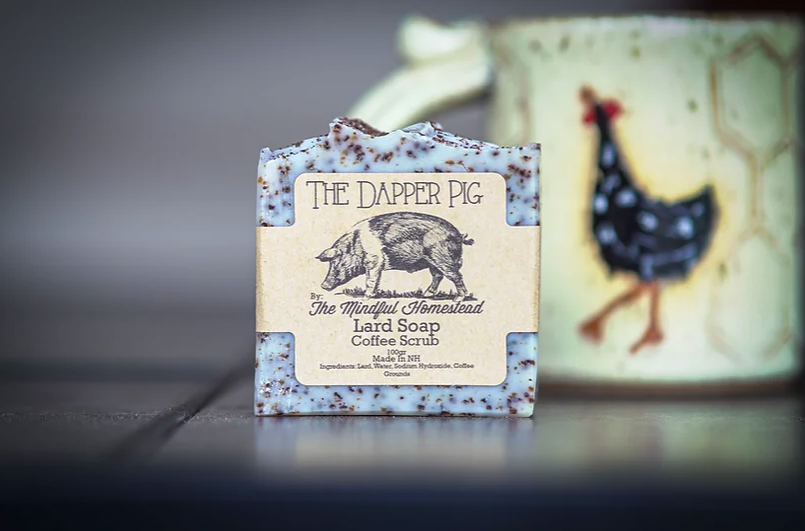 For people who don't have a lot of lard experience, the word lard can be like… lard? gross!
But no, far from it! Jack explains…
"Lard is the fat from a pig, you render it out, it's kind of liken it to coconut oil when you are done. It's a very creamy smooth fat, you can cook with it, you can do all sorts of stuff with it, but it makes a great base for soaps because when you process it with lye that you're using to create soap it creates a very creamy bar that has a good firm consistency to it so it lasts a long time, but when you blend it with some other carrier oils you can get a really rich creamy lather. It creates a pretty luxurious bar"
I know you are dying to try it. GET YOU LARD SOAP HERE… Use Coupon Code "homesteady10" to save 10%
Growing Big… Slowly
"We're going slow" Jack says of the progress on their homestead over the last few years.
"It doesn't seem like we've grown slow, it seems like in four years we've grown very much, but at the same time when I look back at it, we've made choices along the way that have kind of allowed for a more mentally sound growth.
We both work full-time jobs. I think it really comes down to the namesake of the of our homestead, "The Mindful Homestead". It comes from a place of not wanting to bite off more than we can chew, but also being mindful for lack of a better term of what we're able to take on every year. That's kind of the driving force behind the whole thing, take small bites of of what we want to do and dip into it. The first year we did three pigs, the second year we did six, last year we did nine, this year we're doing 10 and we've made that conscious decision to cap it at 10. We're not going to do more than 10 pigs. ever.
The more you max yourself out on something, the more you're spreading yourself thin and I think then anxiety comes into play.
It's all about breaking things into parts and doing it slowly piece by piece. You can get to that big audacious goal that you have, but doing it slow and mindfully and having conversations about what can we actually take on you know with our bandwidth not only our our farm but our family family time our jobs that's a lot and and that becomes a key piece to homesteading and farming for us."
This slow and steady growth has been a source of comfort and security during the crazy times we're living in right now.
Jackie talked about how Homesteading helps with anxiety.
"I think it helps a lot, you know if we break it down into parts, the early part of the pandemic when everything was shutting down we had people coming to us for their eggs for their chicken and that felt really great because we had that stability to also help our friends and family. I think early on that was the first initial realization for me that we were doing something right for ourselves and our family and and there was a little bit less anxiety because of that and then now fast forward to current events and again I feel pretty good you know, do current events affect us and make us think? Absolutely, but in terms of knowing that if the groceries shut groceries shut down tomorrow, we're good. I think that when that anxiety gets going, like they're saying bread's gonna go up or the milk or this or that, I take a breath and I go 'we'll be okay, it's surviving the temporary, these things are all temporary they they flow and they flux and everything like that right we get all crazy about it but in in the end it is temporary, and so I always try to just take a step back get mindful if we want to be a little cheesy there and really just remember this is temporary i'm okay i've got this stuff we've got a bunch of freezers in the basement and and we will survive through this it might be eating chicken every night and no vegetables if it really came down to it but again we would be okay.
Jack added to that
"Being a homesteader really puts you in a place to think about current events and think… okay, what do I need to do to better prepare myself for these events? That anxiety, it doesn't melt away entirely but you end up in a place where you're much more able to accept these current events and accept the impact that they're going to have on you and take steps to reduce that impact."
I really like how Jack worded that.
"what do I need to do to better prepare myself for these events?"
I think, by nature, as a homesteader, usually the first thing you ask yourself is what do I need to do to make things better…
We can blame the government. We can blame the 1%ers. We can blame our parents. We can cry all day about what other people need to do to make our lives better.
Or we can ask ourself, honestly, What can I do RIGHT NOW to make things better? And then we can do something.
Fear is Like Fuel
I though it was interesting, talking to Jack and Jackie, learning how much of their Homestead started in fear, fear of running out of food, fear of animals themselves, but how they channeled that, redirected it, and now run a, pardon the pun, very mindful homestead.
Fear is like fuel. It can be dangerous, explosive, toxic. Or, used properly, it can move us forward to a better place, a place we want to be.
Jack was afraid of not being able to provide for his family if a bump in the food industry caused their New Hampshire Grocery to shut down. But instead of fleeing to the mountains and setting up a survival compound, they slowly and steadily built a homestead over the last few years that continues to grow, not only in the food it produces, and products that are sold from it, but in influence too!
Through their Youtube Channel (Which is at 21,000+ subs, lets help that grow? Share away!) they are helping others live this life.
Recently Jack decided to take this influence off the screen and get in front of people in person! He decided to start the Homesteaders of New England Conference. 
Are you a new englander who is interested in Homesteading?
Enjoy a conference tailored to teaching you more about how to provide for yourself in your own (cold, humid, manic, New England) climate!
LEARN MORE ABOUT THE CONFERENCE…