Okay, I think I'm just going to lead with the headline: "We're Going to Alaska."
This isn't a joke. Kay, the kids, and I are going to Alaska this summer.
To understand why, let's rewind back to last summer when we announced that we were going to build an off-grid home on a property called Sunny Mountain.
Kay and I had been looking for a property for a long time to start our own family farm.
We finally found a place and settled on a spot where we were going to build an off-grid homestead from scratch.
After announcing this project we dove right in.
Since we needed a lot of water for all our livestock, we decided to put in a big pond and some swales to catch rainwater. Projects were progressing nicely, and we thought it was time to set a target date to finish the project. So we did!
Our goal: Celebrate our wedding anniversary in our new house in November.
Let the countdown begin!
That was last December. Winter arrived, work slowed down, and time kept ticking away, and now it's June. So, what has been done on the property?
Nothing. Why?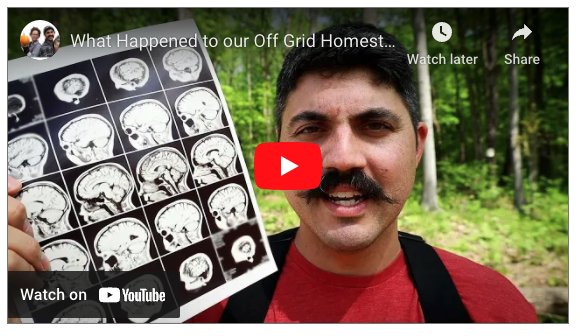 Winter hit, and a machine broke. These were minor hiccups.
The real reason the project stopped was because I started having some health issues.
It all started with a strange dizziness that persisted throughout the winter.
At first, I ignored it when it happened a few times. But since it kept occurring, and I tend to be a bit of a worrier when it comes to medical stuff, I decided to get it checked out.
The journey to find a diagnosis was quite challenging. I had to see multiple doctors, undergo tests, and consult with specialists, which took up a significant amount of time and mental energy. The process involved visits to an ear, nose, and throat doctor, a neurologist, a dizzy test, and an MRI.
Long story short, my brain is fine, and there was nothing to worry about. Although the experience was eye-opening, it served as a reminder to cherish life and pursue our dreams. It made me realize the importance of building the life we want, where and how we want it.
During this time, I couldn't work on the homestead project. Instead, I focused on learning and researching different aspects of off-grid living. I conducted interviews with experts on topics such as building straw bale homes, earthships, geodesic domes, and solar power. These interviews provided valuable insights and advice.
One recurring warning from the experts struck a chord with me. They cautioned against making a common mistake that many people transitioning to off-grid living tend to make.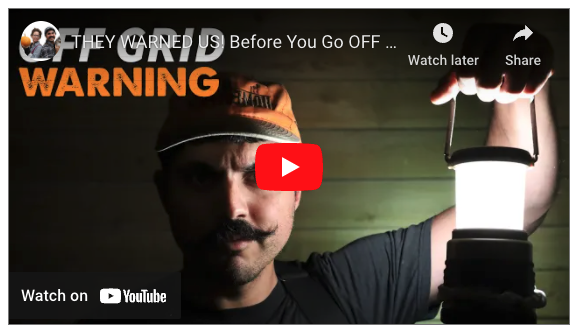 Interestingly, we had already made a similar mistake in the past when we first started homesteading.
It was a long time ago, probably around 11 years ago. Kay and I were brand new homesteaders, and we wanted to start gardening.
So, I decided to design and build a garden that would provide us with vegetables for the entire year.
There was just one minor problem—I had zero gardening experience.
You can probably guess what happened next…
The garden turned out to be so big that we couldn't keep up with it. We had weeds everywhere, and nothing grew. We ended up converting it into a pig pen.
We gave up on that garden, but we didn't give up on gardening altogether.
You know what we did next? Raised beds.
Our raised bed garden was designed with at least some gardening experience, and it performed way better. We actually got more produce out of our raised beds than from any other garden we've ever had. So, there's a clear pattern that you can spot.
When we designed our garden with zero experience, it turned into pig food. But when we designed our garden with experience, it was a different story altogether.
And guess what? This was the exact warning that every off-grid expert shared with us!
"Don't start by designing your home. Start small. Get experience."
For example, Annie and Jay from Blue Rock Station built an earthship. They said that when they give advice (even though, they joked that they don't always follow it themselves), they tell people to "build a birdhouse first, then maybe a bookcase. The first project we built was the Earthship. Yeah. But we didn't know! Build a birdhouse. Then build your house. Because you might hate it. But you can fail like crazy in a birdhouse, and nobody's dying."
Considering this warning and our limited experience with off-grid living, we realized the need to reassess our plans.
We have decided to make some changes to our plans for this year on Sunny Mountain.
Instead of designing and building an off-grid home from scratch with no experience living off-grid, we are hitting the pause button on our off-grid build to go and live the life in the land of off-gridders! Alaska!
The Alaska idea really took shape when I interviewed Paul from Nomad Yurts.
After we finished talking about yurts, I started chatting with Paul about Alaska. As I learned about the off-grid lifestyle there, we got inspired. Turns out, Alaska has a lot of people living off-grid, and that got us thinking.
We wanted to gain hands-on experience and connect with those already living this life, so we found an agricultural lease for a small off-grid cabin on a property in Alaska. We reached out to the owner with our proposal for rotational grazing, and he accepted! It's an amazing opportunity for us to spend the summer in Alaska, learning how to live off-grid.
We don't own the land; it's just an ag lease. But it's perfect for us to dip our toes into off-grid living. There's no electric grid or city utilities, so we'll have to rely on a small solar system and figure out water sources. This experience will give us the knowledge to design our future off-grid home with confidence.
What's really fascinating is that living off-grid is quite common in Alaska. It's like a whole different world there. Dry cabins, remote locations, and self-sustainability are the norm. We're eager to experience it firsthand, learn from others, and interview them! Do you live off-grid in Alaska? If so, please contact me about doing an interview! (Just respond to this email)
Now, if you're wondering about our homestead and animals back home, don't worry. We live on a family farm, and our family will take care of everything while we're away. As for Sunny Mountain, our ongoing project, it'll still be there when we return in the fall.
What can you expect on our YouTube channel and podcast while we're in Alaska? Well, get ready for the 100-day off-grid challenge in Alaska! We'll be staying in this off-grid cabin, documenting our journey from day one. Our goal is to last a hundred days and learn everything about off-grid living. We'll share our experiences and insights with you through videos and podcast episodes.
We're thrilled about this adventure and can't wait to share it with you.