Hello from the Suburban Escapee! Welcome to my first Homesteady Series: Your Homesteady Journey.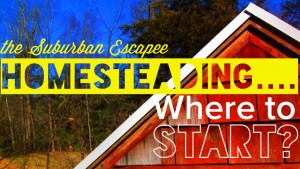 This week, we are focusing on perhaps the biggest and at times most daunting part of the journey: Where to Start.
In beginning my own journey to greater sustainability, I faced many hurdles.
My biggest hurdle was my inner critic. I would look at my own life, and then compare myself to others in situations so different from my own. Individuals who live off the grid, who own organic farms, who had some sort of straw house cooperative where they sourced only locally grown straw from small farmers.
I would then look around my small, urban space and think "I can seriously never even hope to do this unless I have more time/know-how/a secret rich uncle who dies."
Meanwhile, small projects began to take place in my life. I began to bake from scratch. My husband, The Country Boy, began to brew kombucha in our kitchen. We carefully researched new appliance purchases for maximum energy efficiency.
"I can seriously never even hope to do this unless I have more time/know-how/a secret rich uncle who dies."
During this time, if you had asked me, "Do you consider yourself part of the sustainability/homesteading movement?" I would have pictured that idyllic local organic straw farm in my head and said, "No."
Well everyone- here is what I know now- that was the WRONG ANSWER.
You do not have to own fifty head of grass-fed organic beef cattle to be a part of this community!
Starting to become more sustainable means taking a close look at three pieces of your current life: Time, Talents, and Interests.
Time
Talents 
interests
Time: How much time do you currently have to research and pursue a project that would make your life more sustainable? Be realistic. Small changes are doable even if you look at your life and literally see NO time.
Talents: What are you already good at? Do you have the best plants in the office? Do you make crochet baby blankets? Do you like to work with you hands and build things? Moving into sustainability is more doable if you begin in an area of strength.
Interests: What about becoming more "homesteady" interests you the most? Local food? Saving non-renewable resources? Saving money? Choosing an area of high interest creates a platform for follow-through and success.
Next week, we will begin looking at small changes you can make that will have a big impact on your homestead journey.
If you have a specific question or topic you would like to see addressed in this series, please comment below!
---
Alexia – The Suburban Escapee