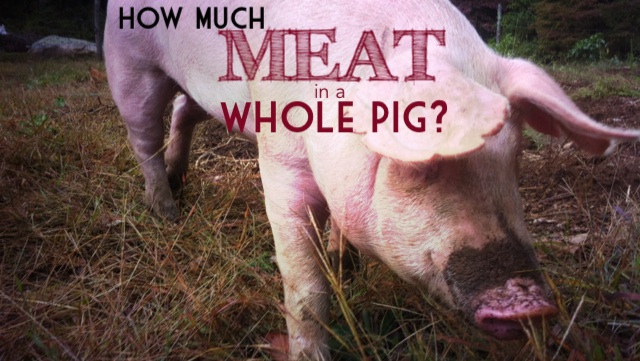 How much meat is in a whole pig? This is a common question for both the aspiring farmer, and new farm customer.
As the slow food movement grows, more and more families are either deciding to grow their own pork, or buy their pork from a local farm.
For the last 5 years we have raised our own pigs. We have found pigs to be an excellent addition to the homestead, and a lucrative farm enterprise.
Thinking about raising or purchasing a whole pig? Want to know what you will get back in meat?
We picked up our pigs from the butcher today. Here is what we got from one pig in the bunch. Hanging weights were around 200 Lbs.
Usable meat: 160 Lbs
Chops, Ribs and Steaks- 61 LBs
26. Loin Chops (each chop is a half pound, 2 per case)
27 Shoulder Steaks (one pound each)
4 Sirloin Chops
4 Spare Ribs
Ham 30 lbs
Sausage 25 Lbs 25.0
Bacon 19 Lbs
15 lbs of bacon
4 lbs Jowell Bacon
Oddiments – 24 LBs
.3 Tail
2.6 Leif Lard
10 lbs back fat
.8 Heart
4.00 Feet
.7 Tounge
.5 Kidneys
3.0 Liver
6 Lbs Hocks