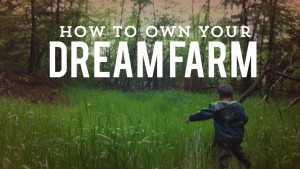 "Close your eyes. I want you to imagine your dream farm…What do you see?"
In this episode of Homesteady, Aust talks to two individuals in different stages of their journeys to the ultimate destination: The Dream Farm. You-yes, YOU! can go from owning nothing, to finding stepping stones towards the perfect spot for reaching your own homesteading goals.
Stepping Stone 1: A Mission for what type of Property YOU want.
The Proving Grounds is one example of stepping stones leading to a dream property come true. Grant Woods, a wildlife biologist who lives in 2000 acres in the Ozark Mountains in Missouri, documents and teachers others successful land management techniques through his web series and website, GrowingDeer.tv. Grant's "mission" was to manage his land for the optimal growth of both plants and animals, while enabling him to spend more time with his family. Grant's land is called "The Proving Grounds" because with it, he has proven that his land management techniques lead to successful, bountiful results.
Stepping Stone 2: Don't wait! Start now. Practice.
"If ever a person has looked at their life as a series of stepping stones laid out in front of them on the way to that big 'ol lake full of bass, that's Alexia."
Not everyone owns 2000 acres of land. In his interview with Alexia Johnstone, The Suburban Escapee, Alexia talks about taking one small step at a time.
A self-proclaimed "anxious achiever," Alexia urges the burgeoning homesteader to set a series of small goals, each with a result that is rewarding. Achievable goals allow us to build towards bigger goals by feeding our self-confidence with small successes. Wherever you live, whatever your life right now, PRACTICE the skills that will lead you towards your homesteading goals.
Stepping Stone 3: The Property Search.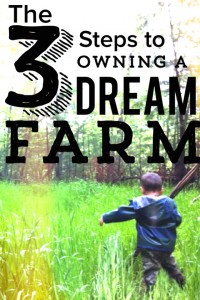 Grant, Alexia and Aust all reflect on how jumping for the first piece of land they saw, or right to a giant farm, wasn't the right choice for their families, due to location, cost, or size. While Grant is already there, Aust and Alexia are both in different spots on their journeys to their Dream Property.
After listening to this episode, are you motivated to learn more about land management, sustainability, and achievable goals on your way to owning your own Dream Property? Then join us this February for #iamhomesteady. We are so excited to bring you bees, bears and more in this four-episode month! In February's #iamhomesteady special, we will be encouraging you to become a Pioneer. If 50 new Pioneers sign up to the program this month, we will host a celebration episode, a live Q and A with Aust and Accountant Mike. All Pioneers will be invited, and we will share that episode with the entire Homesteady Audience.
Sign Up Here to become a Pioneer!
From the Suburban Escapee
Hey everyone! It was lots of fun to be part of the podcast this month. I am so excited to have the opportunity to share the journey my family and I have embarked on to be more Homesteady.
Want to amaze your friends with homemade tomato sauce? Here is the recipe, as promised.
Nonna's Basic Tomato Sauce
Ingredients:
2- 28 oz cans of crushed tomatoes
1-2 fresh tomatoes, if you can find good ones. Otherwise, leave them out.
2 cloves of garlic
1/2 small onion
1/4 cup olive oil (enough to cover the bottom of a soup pot)
1 tablespoon of Italian Seasoning Blend, OR
1/4 Tablespoon dried oregano
3/4 Tablespoon dried basil
Garlic Salt or Garlic Powder, to taste
Salt and Pepper to taste
A soup pot or dutch oven
To Make:
If using, chop the 1-2 fresh tomatoes and blend them in the blender. Put aside.
Coat the bottom of a soup pot or dutch oven with olive oil. Turn the heat to low to slowly warm up the oil. While the oil is warming up, chop the onion into thin strips and throw them in. Cook 2-5 minutes, until translucent, but not brown.
Peel the two cloves of garlic and put them in whole. Let cook about a minute with the onions, and then pour in the two cans of tomatoes, and the blended fresh tomatoes, if using, and stir.
Sprinkle in the herbs. Stir again. Taste the sauce and add salt and pepper to please your own palate. If the sauce seems overly acidic, garlic salt or garlic powder can take the edge off. If you use garlic salt, be aware that you probably won't need much regular salt. Add small amounts at a time- you can always add more, but you can't take it out!
Partially cover and let simmer on low for 20 minutes. Stir every 3-5 minutes to prevent a burnt spot on the bottom. Then the sauce is done, it should nicely coat the back of a spoon.
This makes enough sauce for 6-8 servings of pasta.
Notes: If you are an experienced cook, feel free to vary the herbs. Rosemary, parsley, and thyme also are nice in this sauce. Fresh herbs work well too.
If you use plain stewed frozen garden tomatoes or home-canned tomatoes, blend the tomatoes before pouring them into the sauce. I have found that you need to lengthen the cooking time due to the extra water compared to commercially processed tomatoes. This is particularly true for frozen stewed tomatoes.
Mangia!
---
Alexia – The Suburban Escapee