Happy Farm Saturday….
Yes sorry no email yesterday, been a bit of a crazy week.
You see, K got Hurt! (Oh No!)
Nothing too serious, just threw her back out, but still, with her down, things get a bit more crazy!
Fortunately, when things get crazy, Homesteading has a way of fixing that…
With the Great Move (that's what our kids are calling it…) getting close, and then throwing her back out,
K had been missing from of videos lately. People were wondering where she was!
(K has become the darling of our channel, at this point I'm mostly filler 😉 when K stops showing up on videos people start asking questions!)
Finally she returned in this video, talked about where she had been, and then gave a great update on training Luna, our Jersey calf.
If you like those sweet corduroy overalls she is wearing in that vid,
checkout Revivall Clothing! Laura, the artist/craftsman behind Revivall gifted K a pair, and she loves them!
---
LOVE HOMESTEADY? Help us keep it going!
Becoming a Pioneer – You get instant access to the new forum, discounts, and homesteading classes and podcasts!
---
In just a week or so we are headed down to our future farm to build a Tiny Home for ourselves!
I needed some help putting together a lumber list for the Tiny Home build.
Whenever I have a building project going on there is one person I go to for help.
The person I learned how to build anything from, who I am always helping me build things,
and who's tools I have been losing since I was able to hold tools…
Finally this week we got a very exciting delivery! My kids have been begging me for a
HOMESTEADY TEE SHIRT! And finally I designed some and they arrived!
If you want a Homesteady Tee we now have men, women, kids, and even toddler shirts!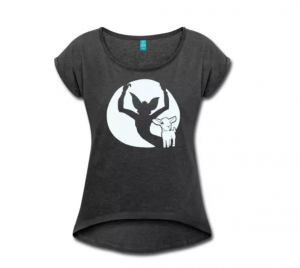 Our latest Evil Goat Gremlin shirt has been very popular!
I hope you enjoy your weekend on your homestead!
Happy Farm Friday on Saturday!
Aust