---
Homesteady Podcast 115 Cheesemaking 101 with Robyn from Cheese From Scratch
On this channel Robyn teaches how to make all sorts of cheeses, and the best part, she shows you how to do it all with very simple equipment you may already own!
Website and Cheesemaking Course
BOOKS TO CHECKOUT (affiliate links)
200 Easy Homemade Cheese Recipes
---
"Hey look, I got a milk cow today"
How would you feel if you came home to find your spouse had surprised you with a new dairy cow?
Shocked? Scared? Elated? All 3?
That is exactly what happened to Robyn from Cheese From Scratch.
"I came home one day and theres this Holstein Cow"… Her husband surprised her with it. And that is how she started making cheese!
Although Robyn was new to dairy cows, she did have LOTS of cow experience.
Robyn grew up on a Beef Ranch, married the boy from the beef ranch next door, and together started their own 250 cow beef ranch. SO yeah, they knew how to care for cows…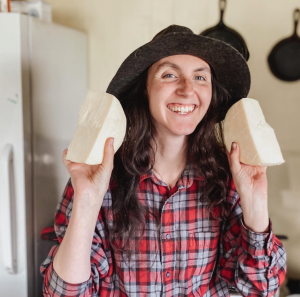 But as Robyn puts it, "It's so different having a beef cow from a diary cow." So right away she had to learn not only how to care for a dairy cow, but what to do with all the extra milk.
Of course, it didn't take long for her to start trying to make cheese.
"Milk is meant to make cheese" Robyn explained to me.
When a calf feeds from it's mother, the milk winds up in the warm stomach, where enzymes (rennet) quickly turns the milk into cheese curds.
When we make cheese, we are just mimicking the natural process happening everyday when cute little calves feed from their mother.
How To Make Cheese – The Process
Every  Cheese is made from the same basic process, just with different cultures, temperatures, timing and techniques.
Robyn likes to start with fresh milk.
Step 1 – Heat the Milk
Depending on the cheese recipe you follow you will heat to a certain temperature and time.
Step 2 – Add the Culture
Different bacteria cultures will create different kinds of cheese. These cultures are made up of 'good' bacteria that begin to digest the lactose or sugar in your milk. When they digest the sugar it creates lactic acid, which acidifies your milk.
Step 3 – Coagulate the Milk 
After adding culture, Rennet (the same enzyme found in a calfs stomach) is added to the pot to coagulate the milk. While rennet is traditionally sourced from calf's stomachs, you can actually get rennet from vegetables, and even snails! So if you don't want to get calf sourced rennet you can still make cheese!
This coagulation causes a separation in the milk, creating 2 products from the milk, curds and whey. The whey can be poured out into the garden, soaked into livestock feed and fed to animals, or even turned into caramel candy! The curds now need to be turned into cheese!
Step 4 – Manipulate the Curds
Depending on what kind of cheese you want to make, this process will be very different. Some cheeses will need to be stirred, washed, or 'cheddared'. If your cheese is a soft cheese a press will not be needed, but hard cheeses will need to be pressed.
Step 5 – Salting
Sometimes salt will be added BEFORE pressing, other times after, but all cheese needs salt! It keeps unwanted bacteria away and preserved the curds for the aging process!
Step 6 – Sealing and Storing the Cheese
If you are making a fresh, soft cheese it is at this point ready to eat! However, if you are creating a cheese that needs aged, it needs sealed and stored.
You have probably seen wax cheese wheels at fancy butcher shops or your grocery store. The wax on the outside seals the cheese while still allowing it to age. Robyn likes to use a vacum sealing machine to seal her cheese instead of wax, and then the cheese is stored in a 'cheese cave', which sounds fancy, but basically is a warm dark place the cheese can age.
Robyn used to store cheese under her mattress before she had 'cheese cave' refrigerators.
It really can be that simple when making cheese. And that is Robyn's big message! It can be simple.
You Don't Need Fancy Equipment to Make Cheese on Your Homestead
Robyn suggests that you start making 'fresh' cheeses in the beginning, as these don't need aged or pressed. You can make Feta or Mozzarella (just to name a few) cheese with zero fancy equipment.
Even if you want to make some 'pressed' aged cheeses you don't really need a cheese press in the beginning.
"When you think about pressing all you have to think about is that what you're trying to do, which is get the whey out from between the curds. All you have to do is add pressure and it's kind of it's one of those things where people get a little bit confused because there's so much information about pressing like there's this huge math equation you can kind of calculate and figure out um how much exact pressure you need to put on your cheese…and i think that's something that really confuses people."
Robyn shares examples of DIY cheese presses that she makes from home all the time on her social account.
Some things you can use as 'forms' for your cheese…
a bucket with the bottom cut out
a springform pan
Then you want to put something to catch the whey in at the bottom like a pan or something.
How do you then press your cheese?
"basically you just want something to be kind of structured to be kind of forming your cheese, and then you're gonna put something on top of it to like follow your cheese through so, like a bucket of warm water if you use that that's gonna like significantly reduce the amount of pressure you need to put on top of there because that warmth is going to help facilitate that draining so much better."
A DIY Press will take some time to get right, and you might mess up along the way, but you will learn and your cheese will probably be edible, if not perfect.
The best way to get good at making cheese at home is to keep it simple, and focus on just a few cheeses. 
Robyn warns agains trying to make too many too fast…
"when you start making cheese you want to make all the different cheeses. You're like I want to make this cheese and this cheese and this cheese but realistically if you go to the grocery store you're gonna buy like cheddar and maybe one other cheese."
So focus on just making a few of the cheeses you like to buy regularly, and grow slowly from there.
Don't forget when trying to make cheese, use your gut as a guide. 
I asked Robyn about food safety, as whenever I am learning to make a new food for my family I worry about making sure it's safe for them.
Her best advice, trust your gut.
"If it smells weird, don't eat it. If it tastes weird, don't eat it."
There are some really practical steps that will help keep our cheese safe for our family that Robyn shared.
First, using raw milk will help keep our cheese safe.
Raw milk is loaded with beneficial bacteria, and as long as we keep the bad bacteria out as best we can, and control the temperature to keep the bad bacteria from multiplying, the good bacteria will keep our product safe.
Another important step is using good cheese cultures. Robyn suggests starting with freeze dried cultures which you can purchase online.
Finally, following recipes when making cheese. Following these time tested recipes will ensure our product is safe for us to eat!
Looking for some good recipes to follow? Robyn suggests 2 books for new homestead cheesemakers… The Art of Natural Cheesemaking  and
200 Easy Homemade Cheese Recipes.(affiliate links )
Cheesemaking is a fun, simple way to feed your family from your homestead, and you should start learning this art right away! 
Lot's of people write me emails and comments, talking about how they wish they could homestead but they don't have any land or can't have animals right now. If that is YOU… TAKE ACTION TODAY! Start learning the skill of cheesemaking. You can learn this craft in a small apartment kitchen with milk you source locally, or even if you have to,  milk you get from the store!
You don't need a cow, or land.
You just need one thing to make cheese… MILK! Get started today!