Tiny living with a family of 6 isn't easy, but with some intentional design and good planning it can be done! 
Before we moved to our new homestead in PA, we built ourselves a small living space up above a garage that was already on the property. Over the last 9 months our family of 6 lived in that 1000 square feet, 166 square feet per person, eating, sleeping, working, cooking, homeschooling, everything.
We found that one of the most important ways to make tiny living work for a big family is to design your space with your needs in mind. 
Before building our own tiny home, we designed the home 4 different ways, trying to figure out the best design for our large family.
It was good that we designed multiple floor plans, as the first idea we designed was not our favorite.
If you plan on building your own tiny home, I suggest designing at least 3-5 tiny home plans.
Designing multiple plans, you will think of good elements in each design to incorporate in your final design.
When designing your tiny home, focus on creating space with multiple uses, that more than one person can use at a time. 
This is especially important for tiny home living with a big family.
Our family homeschools our kids, and K and I work from home, so all 6 of us (and K pregnant with number 7) are all home all the time. That means your tiny home needs to be able to handle the use of all of us everyday, all day. 
2 areas in our design got a TON OF USE by multiple people at once… the bathroom and kitchen.
Designing a bathroom for six people (one of them pregnant)
It is hard to have that many people share a bathroom, but with the layout we used in our bathroom, we were able to have different "zones" in the bathroom, which allowed multiple people to use the space at one.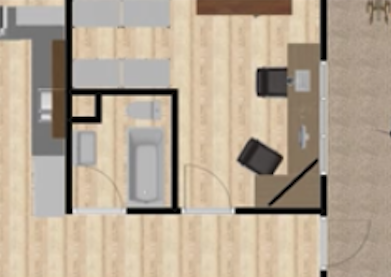 Using the bathtub as one zone, we tucked the toilet behind the bathtub in a spot that was not visible to anyone else using the bathroom. One person could use the toilet while another showered or used the sink and there was still some privacy.
The kitchen counter – the ultimate multi use space.
We designed our Kitchen counter with a very large eat at island. This allowed K to do meal prep, the kids to do homeschool projects, and me a space to work at, all at the same time! And when it was time to eat dinner, no dining room table needed, the eat at kitchen counter was our dining table as well!
Things we would have changed about our design… 
Our space was designed to be a tiny home for us for almost a year, but long term we designed this space to be a guest house / studio. This layout is great for that purpose, but if we had planned on living in this tiny space long term we would have changed it a bit.
Our kids had a small room that we used for some time as a play room, but there was not enough room for them to sleep there, so we all shared a bedroom. Eventually the play room was turned into my office, and the kids toys moved into the bedroom with us. This was not fun…
Each morning I found myself trying to sneak out of the bedroom, without waking up the kids, while stepping on legos the whole time. That was a lesson in self control that I look forward to not repeating.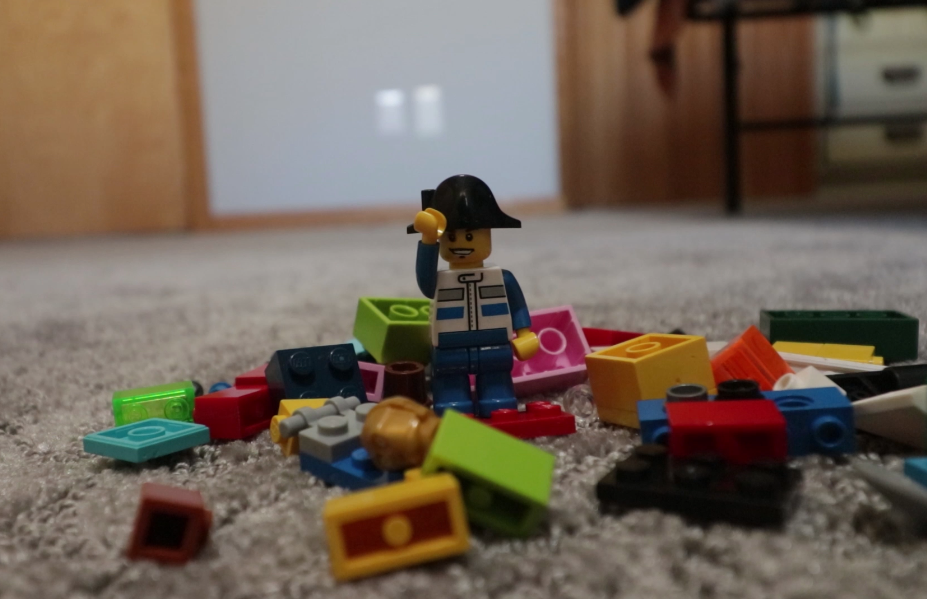 If I were to redesign the space we would have stolen some square footage from our bedroom and the kitchen, and giving the kids their own bedroom/playroom, and avoid the daily lego fire walk all together.
Tiny living with a large family is not easy, but if you focus on designing a functional multi use space you can do it!
Make sure to design your future home layout many times. Look for ways to double and triple uses out of spaces. And avoid the wrong shared spaces (legos and bedrooms don't mix) and you can enjoy tiny living with kids!