If you are homesteading to feed your family, these 2 animals will give you more food than any other!
If you have a homestead that is focused on feeding your family, and you have enough room and pasture to keep one happy… You should get a family milk cow.
No other animal can produce so much food, both meat and dairy products, and off of just pasture grass!
If you are feeding a large family, one jersey can yield a gallon or more of milk a day off of good pasture. That cow can be crossed with an angus or hereford to produce a nice beef calf.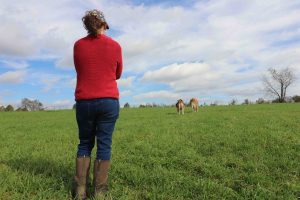 Now from your fields behind your farmhouse you are producing milk daily for your family, which can be turned  into delicious cheeses, yogurts, and other dairy products. And at the end of the season you can take your beef calf and have veal made, or you can grow the calf for a longer period of time to get beef in the freezer.
Believe it or not, beef calves are not the best choice (imho) for growing meat. 
A beef calf can take a year to multiple years to finish. That is a long time for me to wait for steaks on my grill. Thats why in addition to adding cows to your homestead, I think every homesteader looking to feed their family should raise pigs.
Pigs are an amazing way to put hundreds of pounds of amazing farm fresh meat in your freezer in less than 6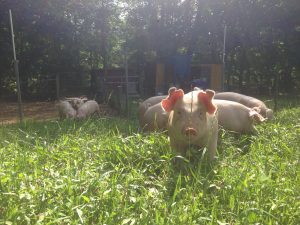 months. 
I always suggest that if you have never raised pigs before, you start with raising feeder pigs. Feeder pigs are piglets purchased at 8 weeks old. They are weaned, and should have their shots done and the males should be cut (testicles removed).
That means when you purchase feeder pigs, the only work you need to do is feed and water you happy pigs, and give them a nice place to run around.
In less than 6 months time you will have a freezer full of the best bacon, ham, sausage and steaks you have ever had. 
Feeding your family from your land is an awesome feeling, and if you are trying to do that look into adding a few pigs and a couple cows to your family farm.
You will never eat better. 
Is this your first time here at Homesteady? Join our Email List so you don't miss out on our daily homesteading videos and podcast episodes!
CLICK HERE TO JOIN THE EMAIL LIST
CLICK HERE TO SUBSCRIBE TO OUR YOUTUBE CHANNEL
CLICK HERE TO SUBSCRIBE TO OUR PODCAST