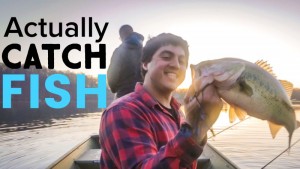 On this episode of Homesteady, Aust will reveal the secrets to actually catch fish when you go fishing. As fishing is something best done with your buddies, Aust has his fishing buddies, Uncle Bourbon, who is a fly fishing guide (find him here), and James, or "Pickles," as his guests on this show to share tips, tricks, and strategy. While there are many types of fish, this episode focuses on fresh water "panfish", bass and trout.

***The Suburban Escapee here: New to fishing? Haven't fished since you were a scout? This cheat sheet of fishing terms will help when you are listening to this episode!***
Truth: "Fishing" is synonymous with "disappointed." Aust shares a story of his childhood fishing with Uncle John. On a bucolic day, planned for fishing under a waterfall, Aust arrives at this special spot to find that the waterfall is completely dried up. However, a couple of things can really change your luck. A little bit of know-how goes a long way.
When should you fish? Where should you fish? And what should you use? This episode will cover this, and so much more, so that next time you go fishing, you will actually catch fish.
The season, month, and weather greatly affect how many fish you will catch. In the Northeast, Aust and his buddies believe that May is the best fishing month. Particularly for fly fishing, the "hatch" is best in May. The spring is the best time to catch the fish, because the fish start spawning and they are "in the shallows" where even the most novice fisher can catch a fish while standing on the shore. A nice, overcast day will be the most comfortable, and fishing early in the morning or at nightfall are the best times of day for catching fish. Remember this rhyme:
If the barometer is risin' on their beds they'll be lyin'
If the barometer is droppin' in your boat they'll be hopin'
Where do you find the fish? It's often said 80% of the fish can be found in 20% of the water. Where to find the fish is dependent upon what type of fish one is trying to catch, the time of year, and what body of water is being fished. Fish like rocks, docks, shallow points, and downed trees. Fish eat insects, so anywhere insects lay eggs and hatch is a great place to cast your lure.
The right fishing gear can greatly improve your chances of catching fish. You need the right size pole, hook, and line to attract your desired fish. Different water conditions, different fish species, and different bodies of water require different gear.
Ready to start fishing? We've got a how-to on YouTube showing you exactly what to get.
Do you have more questions about fishing? Email Aust at aust@homesteady.com. Show us your fishing gear and the fish you catch by tagging your social media posts #iamhomesteady.
As we are now recording the podcast LIVE on YouTube and Prepperbroadcasting Tuesday evenings at 9, (join the email list to get the link) we were able to take phone calls from our listeners (and a very special guest!). Our listeners shared their best fish stories and asked advice on how to keep and prepare fish you catch properly for eating, fishing around heavy weeds, and how to best take kids fishing.
Did you know we do a Pioneer Only live discussion on the week's topic Tuesday at 10? Become a Pioneer today to receive the Pioneer Only link. For five dollars a month, you get access to exclusive podcast episodes, how-to classes and videos, discount codes, our weekly live Pioneer Discussion, and so much more.
Thank you to our sponsors!
Support the show without spending an extra dime. Shop Amazon by clicking on www.amsteady.com to do your Amazon shopping, and we receive a referral bonus since Amazon knows we sent you. Use your next bulk toilet paper order- or maybe now you're motivated to order some new fishing supplies?
Special Event Alert! We are thrilled to host Dave Hunt of Northeast Edible at the Homesteady Farm May 6, 2017 for an Orchard Planting Workshop. Interested in getting tickets? Join our email list and be the first to know when tickets go on sale. Unable to attend but want all the knowledge? Homesteady Pioneers to get access to an exclusive how-to video from the event.