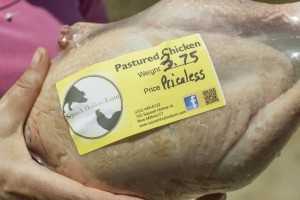 Each year we raise 50-100 cornish cross chickens.
This fills our chicken needs for the year, with some extra to sell. Raising meat birds is a great toe in the water of meat production on the farm.
When you get your chickens, you will quickly realize that there are essentially 3 big questions to answer, how do I feed, water, and protect these birds?
My buddy John, from Farm Marketing Solutions, can help you answer that question.
A few years back he started chicken farming.
Here is the cool part, he started a farm without owning land! (some of you right now just started paying more attention to this email…)
He networked in our local area to find properties that would allow him to raise chickens on their pastures.
BUT… since he had no farm of his own, he couldn't build coops, or setup permanent fencing. He needed a mobile solution to that question, how to I feed, water and protect my birds?
Enter the Chicken Tractor. 
Chicken Tractors are a mobile coop, that allows the birds to eat grass, while safely moving them around the farm. There are probably hundreds of different chicken tractor designs and ideas out there.
I even designed my own last year. But ready for this?
John designed, honestly, the nicest chicken tractor I have ever seen. 
My own wife, after working with my tractor, (I designed it for my son, so its a bit hard to get inside of as a full grown human) asked me to build her "one of John's Tractors"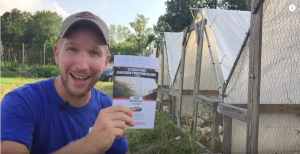 Husband Fail. 
Anyways, You can see Johns Chicken Tractor at work here
and you can check out his new book, where he shows you how to build these sweet tractors! (you can buy that book HERE)
Check those out, even if chickens are not on your homestead yet, I can be they will be soon!
This post is an excerpt from our Weekly Email, JOIN OUR EMAIL LIST to receive all our weekly emails, not just the excerpts featured on the blog…