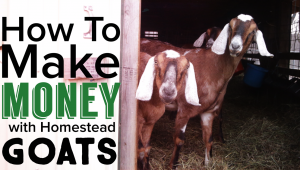 Goats can earn you an income on your homestead! Find out how in Part 2 of our Goat episode of the Homesteady podcast, brought to you by www.thisishomesteady.com .
In this episode we talk to Brittany Colebush, from BCB Shepherdess 
Brittany shares with us how she has turned her love of being a shepherdess into a great business.
Then we enjoy listening to Accountant Mike break down the numbers and see whether or not he gives goat farming a "thumbs up".
Find out if he does in this episode of Homesteady.
Brought to you by the Homesteady Pioneers. Homesteady Pioneers gain access to the pioneer library, full of exclusive pioneers only podcasts and videos. Become a Pioneer HERE