Happy Farm Friday!
We had a little baby boy!
(this blogpost is a Farm Friday Email sent to everyone on our EMAIL LIST, JOIN HERE to receive all the weekly emails, videos and podcasts from Homesteady!)
Homesteading and having babies seems to go hand and hand. With all the work of farming, it's about the best way to get free labor on the farm 🙂
Im sure Accountant Mike would remind me the cost of raising children, and that I would be better off hiring a day laborer here and there when I needed extra help,
but I am playing the long game.
The first few years they slow you down, but now my older kids are doing the chickens, closing up barns, helping me fence, so its already paying dividends.
Which meant it was time for another…
Want to see the little guy?
This week we are excited to share our beautiful little boy with you!  He is featured in a funny little tongue in cheek video we made about "Kidding on the Homestead.."
Goat and Human….

You Mom's (and Dads) should appreciate this one 🙂
We have had our hands full with the little guy, and everything else going on here. But somehow we managed to squeak out an episode of the Podcast last week, you can find that here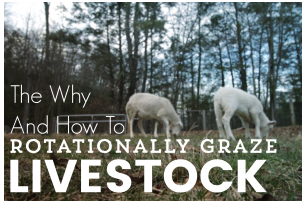 In that episode we discuss in great detail the benefits of rotationally grazing you livestock. Want to know how to do that? We have a great lesson in the Go Homestead! Course that shows you how to do rotational grazing, and how to use electric netting.
That entire homesteading video course is free!
All you need to do is fill out a brief questionnaire and your in! GO HERE to do that….
A podcast, free course, and video this week! Whew!
We can not do all this without the help of the Homesteady Pioneers!
And I am looking forward to talking spending some time this month with them all at a live Q and A Webinar!
Were going to be talking about Starting a Farm with Little Money! Want to join us for that? Or watch it on demand afterward?
BECOME A PIONEER, it helps keep homesteady coming to you all every month, and you get access to the entire on demand library of
Pioneer only videos, podcasts, and courses.
I hope you have something exciting planned for your homesteads and families this weekend! I picked my Bow up from the Pro Shop yesterday, so I am planning on doing some shooting on the Archery Range!
Aust