SPOILER ALERT: If you haven't heard the prologue to this episode:Emergency on the Farm, Just One More, we highly suggest you stop and listen to this episode first. It's about an hour, and highly emotional, so don't forget those tissues!

Thank you, listeners, for your support regarding the loss of Boone.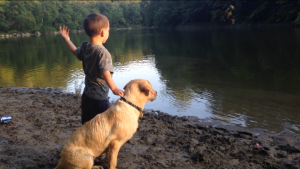 We were, and continue to be, profoundly moved by your outpouring of empathy. Your stories of the beloved companion animals you have lost help heal the hole in our own heart.
We are heartened by  how many of you told us that you have made changes on your own properties- reducing and eliminating your own use of poisons-in honor of Boone. This is why we shared Boone's story.
You have shared these stories with the #forboone Hashtag. PLEASE, keep doing so. It makes his loss continue to have meaning for us and others.
On the podcast, we share parts of several of your stories- of your much-loved pets, of the changes you've made on your properties. Our hearts are so grateful for this podcast community.
As you may remember, I was able to get a spot put on the waiting list of Three Cedar's Retrievers list for JUST ONE MORE puppy sired by the same parents as Boone. How did this selection process go for us? Watch this video to find out. It will be the cutest thing you see all day. With the help of Jack's matchmaking skills, we selected "Socks" to come home with us to the farm.

Or maybe, "Socks" picked us.
To be honest, it was hard to get a new puppy while still grieving Boone's loss. But we moved forward and started to build a spot in our family for our puppy. All purebred animals are registered, with a an official name. We re-named Socks "Bones" for his call name, a name that honored Boone. His official name? Three Cedars Boone's Little Brother. After earning the nickname Lazy Bones, for his marked lack of interest in any training activities, Bone matured into an eager retriever.
More than that, he has filled the hole next to me, and has become my new best friend.
This episode of Homesteady really highlighted how this podcast engenders community. Want to be a bigger part of this community? Become a Pioneer today!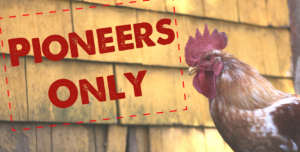 From the Suburban Escapee- Picking the Right Pet for Your Family
The story of Boone was truly a heartbreaking episode for me. The grief of losing a beloved animal, particularly in such a sudden and tragic way.
Aust's ruminations on his selection process, on the importance of a companion animal, and how animals often become part of our families, has led me to think about my own family's relationship with pets.
CONFESSION: I am not a pet person.
There, I said it. However, I share a household with two hardcore animal lovers, for whom life without a pet is incomplete. What I learned, however, is that the right pet can make all the difference.
See, one upon a time I had this cat, who shall be known in infamy as The Evil Poopstinky. Poopstinky, whose real name was Colbert, appeared in my life through happenstance. I procured a kitten for a family member, only to have that family member's dog profoundly reject the tiny black kitten I foisted upon it. The kitten was returned to me, and The Country Boy, who at the time was my boyfriend, immediately took the kitten under his wing. Suddenly, I had a cat.
Poopstinky did her own thing. She bit toes. She did not like to be carried or sit in laps. She would only drink water out of a glass.
Most notably, Poopstinky did not like people. This was always obvious to us, but after we married and had our first child, it started to become a problem. 
The cat become both more antisocial and territorial. She would hiss at anyone who came near the baby, and scratch anyone who dared walk past her post. A hostile sentry, we would have to close her in the bedroom when guests came over.
After we moved to a larger home, we thought the cat would be more relaxed. However, the cat became increasingly anxious and began to use the carpet as her bathroom. Now pregnant with our second child, we let the cat outside. Maybe some fresh air would calm her down.
It didn't work.
With a heavy heart, I began to search for a new home for our cat. She had become quite aggressive. My older child, who would try to hug and play with the cat, had several near misses when the cat went at her face. Despite her misanthropic tendencies, however, she was our cat. I couldn't shake the feeling I was letting her down.
Everyone knew our cat was, to say the least, not a great pet. No offers to take her in surfaced. Seeing no other solution, I put her on the list at several no kill shelters. No-kill shelter are places you can surrender animals, and they guarantee to never put them to sleep, no matter how long it takes to re-home them. Her name finally came up on a list, and, alone, I made the drive and dropped her off.
She never came up for adoption. While I know she wasn't euthanized, I do not know what actually happened to her. I am still flooded with guilt when I think of the last time I saw her little face before they took her away in her carrier.
This website has some wonderful tips for choosing the right type of pet for your family- and to help decide if now is the time for a pet at all. Thankfully, we now have an amazing, relaxed cat who allows our girls to pick him up, dress him in princess crowns, and snuggle him. Plus, he's an incredible mouser (he can actually take a squirrel down!)
What are your tips for finding the right pet for your family?