---
When you go on a first date… You are on your best behavior… Right?
First impressions are important.
I think cows understand this. They are quite social creatures.
Recently we announced we got a new milk cow, Massachusetts a Guernsey.
Chewy' (as a CT native I refused to call her Massachusetts) came from a dairy operation in Western PA where she was milked 2x a day. She was NOT a newbie.
Everything went really smooth the first night. Which was good because she is a BIG girl and honestly I was a little scared of her.
But, apparently in the cow world the 1st date is all that
counts. Date 2 was very different.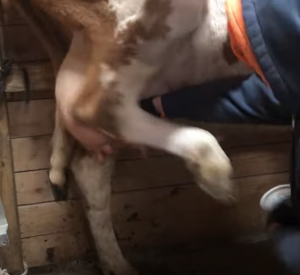 Pretty much the whole second milking
 was fighting and dodging kicking. Not fun.
What would we do?
For years we have heard about this legendary tool cow owners love… The Kick Stop. 
This tool is supposed to limit the movement a cow is able to do with their legs while being milked, keeping your head from being redesigned by a hoof and everyone happy.
We headed out to our favorite dairy supply store in Western Pa, Graham Dairy Supply  to find us a Kick Stop.
I was blown away.
This little tool was so easy to use, and so effective. The next milking with Chewy was completely different.
For less than $50 I considered it well worth it mustache insurance. I 100% recommend it.
I think it's important that we share days like this in the barn.
Instagram makes small farming look glamorous. The highlight reel is usually pretty and filtered.
Milking a cow can seem like a dream come true. Sometimes it isn't so pretty though.
K put it best…
"For most of us, it's not been our upbringing. I'm coming into milking a cow and I've read about how nice it is, you go out to your cow in the early morning and you sit beside it and the milk starts streaming into the pail and she stands there calmly chewing her cud… and then you add a thousand pounds onto that daydream and it's a whole other story."
Many days this life is a daydream. For the other days, get yourself a Kick Stop.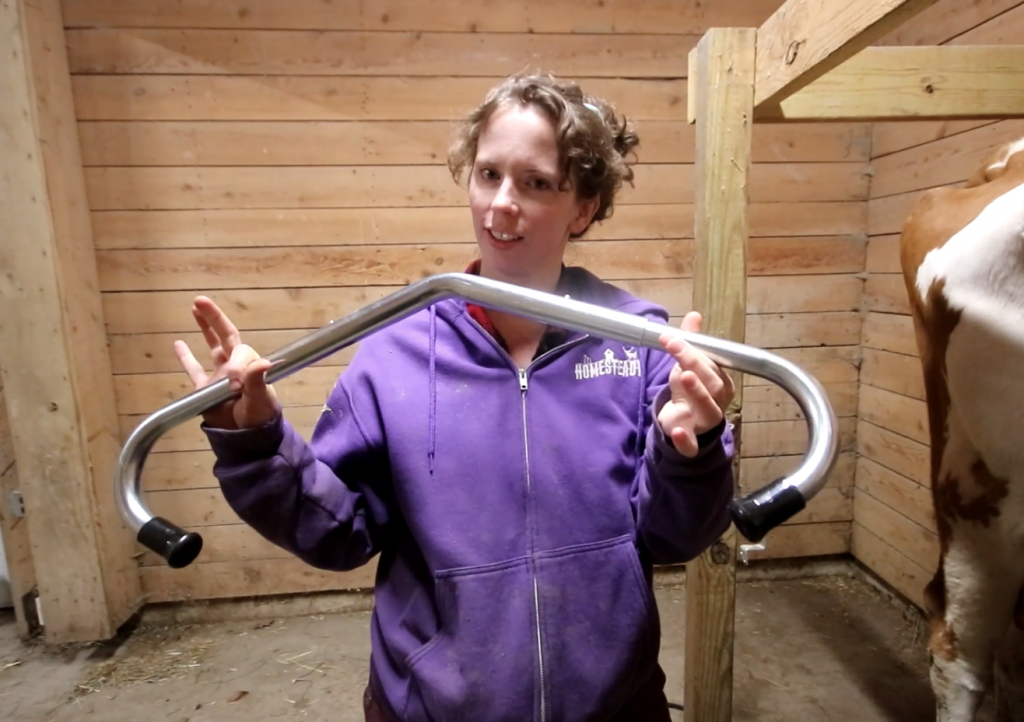 It's a lifesaver. Literally! Did you know cows are actually more dangerous than sharks?
More people die every year to cow related injuries than sharks so if you're working closely with dairy cows or beef cattle make sure that you're taking the necessary safety precautions!
If you are new to cows and you're going to get your first dairy cows or beef cows learn about cow safety… we did a whole interview with a cow specialist all about ways you can make sure you are being safe around your brand new cattle, check it out!
Enjoy this post? CLICK HERE TO JOIN OUR EMAIL LIST so you get all our latest podcasts, videos and posts!