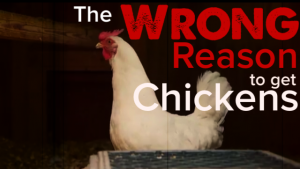 One of the biggest mistakes homesteaders make is to purchase a flock of chickens to save them money.
 Saving money by raising your own flock of chickens is almost impossible! If you don't believe me, just listen to the Egg Laying Chicken episode of our podcast. Accountant Mike gives egg layers a big thumbs down.
You see, factory farms have mastered the art of raising cheap chicken. A mixture of confinement and automation have produced a product that is impossible for a homesteading family to beat: $2.00 /dz eggs and $2.00/lb chicken (in our area. In your neck of the woods, it might be even cheaper!)
Never expect yourself to save money raising chickens. If that is your primary goal in raising chickens, you will be disappointed.
Instead, here are three right reasons
1. To Learn Basic Animal Husbandry Skills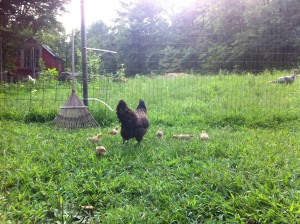 When Kendra and I first moved to our farm, I had Zero animal husbandry skills. I had no idea how to care for a farm animal. I didn't know how to protect them from predation, feed them properly, or care for them in a way that produced the best yield.
Now, 4 years later, I raise (or raised) chickens, ducks, geese,Guineas, pigs, goats, and turkeys all happily on our farm. I learned how to care for animals with my chickens. Chickens will teach you many things, including:
Importance of Good Breed Selection
How To Care for Young Animals
How To Protect Animals from Predation
How To Monitor Your Herd For Health
How To Feed and House Animals Happily
How To Breed and Grow a Herd
Most of these lessons are learned through trial and error. Due to the size of chickens, the domestic nature, and the glut of info available online on raising them, learning how to keep animals is always easiest on chickens.
2. To  Become more Sustainable
Learning to live a sustainable life is always a work in progress. Ordering Chicks from a Hatchery and feeding them a Chain Brand Feed is a way more sustainable way of living than purchasing eggs from your supermarket.
And more sustainable still is selectively breeding your own chicks from your own flock, and raising them on a mixture of feed produced locally and mixed by you, as well as supplementing them on pasture.
The point is, sustainability is a spectrum, and the day you get chickens on your property is the day you start moving further along that spectrum.
3. To Eat the Best Food Available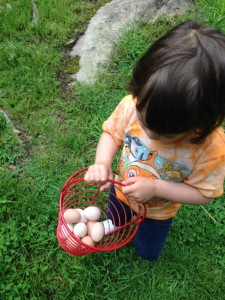 You will not save money raising chickens when you compare your product to what is available in a supermarket. But you are raising something much better than what is available in a supermarket.
Your farm fresh eggs will be loaded with nutrients, taste amazing, and be as fresh as possible. (Last week I literally grabbed an egg that was laid in front of me and placed it on the skillet 2 minutes later. YUM)
Your pasture raised chicken will be the most healthy meat available. And you will have the ability to eat chicken fresh, never having been frozen.
And when you compare your own farm fresh eggs and chicken to the product at the local farmers market,THAT'S when you actually may save money. Your local farmers market may have a great product available, but you will certainly be able to raise it for less on your own homestead.
Order today, Harvest in 8 weeks!
Now is the time. If you order chicks today, you could be eating farm fresh eggs in just a few months! And if you're interested in raising meat chickens, you could be harvesting meat in just 8 weeks!
Worried about breed selection, basic care, and which equipment to buy?
You could go find some books to read, or endlessly scan the internet for one opinion or another, or you could Purchase Chicken Farming 101 at our Homesteady Store.
This is a 1 1/2 hour course about the basics of starting a backyard farm business. You will learn about
Needed infrastructure for raising chickens
How and where to get chicks from
Breeds and selecting the one for you
How to have mess free water and food
Protecting your birds from predation
How to care for chickens in the winter
It took us years to figure out how to raise chickens the right way. But it will only take you two hours!
When you finish this course you will know EVERYTHING you need to know about raising chickens. And the best part is that this class is an Audio program, so you can listen to it again and again, even on the go!
We cover both egg laying and meat chickens, and the plan to get both to the point of harvest.
We even share a sneaky tip for those of you who have zoning or community rules that don't allow for chickens.
Click Here to check out the Chickens 101 Class from Homesteady and Get ready to start your homestead flock!

Featured on the Simple Saturday Blog Hop