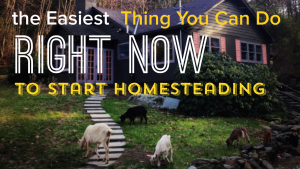 Farming, Hunting, Fishing, Foraging… The different homesteading activities are all hard work. But there is something really easy that you can do now, which will help you later.
Be Creepy…Follow Some Farmers
No, not like creepy creepy. I mean on the internet… (wait, never mind)
Follow a farm blog. Find a hunter with an active social media page. Subscribe to an active fishing report in your area. Join some email lists.
If you can't find one in person… Get a Digital Homesteading Mentor!
I know, that in PART 2 of this series I said that these sources can candy coat the hard reality that is homesteading. And that is true. But not all of the time.
There is something these Digital Mentors are often really good at. That is sharing good information. The farmer at the farmers market may take you under his wing, or…he might just not have the time!
Bloggers… They want to share! Lets face it, if you don't have some good info to share, your sites not going to draw many views. That means bloggers like me who are trying to make a living doing this…
(How do I make Money? Click Here to find out!)
…They need to share good info. And you can REALLY benefit from that.
To Get the Most From a Digital Mentor…
You need to do a few things.
Blogs and Websites are like rivers. Not all are safe to drink from. So when you are looking for some good web sources to guide you down this path, look for a few things. First, and most important, Experience. There are lots of blogs that act like diaries. These bloggers document their homesteading life as it goes. They are fun to follow for entertainment purposes. But not to be treated like a guide. If the blog you're reading is telling you "How To Raise Pigs" and its their first year raising pigs…Enjoy the fun stories, but ignore the post about how to properly feed a market hog. Look for blogs that are run by business owners. A fisherman's report by a guy who fishes once a month will not have the same clout as a guides weekly report.
Once you find a source that is experienced, figure out what they're selling. It's not wrong to profit from a blog (trust me, there is a lot of time and effort put into these things!), but make sure you know what the monetary incentive is, so you can see if the info you are reading is a subtle bias advertisement, or a honest helpful person who also wants to make a living meanwhile helping others in his field.
A great example of this is "good digital mentor" who makes money is Fias Co Farm. They are one of the leading websites for great goat information. They also sell some good products that can help you with your goat herd. Great info and great products, buy if you like, but learn either way. (They get a big, big thumbs up from us here at Homesteady.)
Once you find an experienced Farmer, Hunter, Fisher, Forager, Soapmaker, Baker, etc. who has years of experience and shares it on his or her website, and is not trying to get you involved in a pyramid scheme, its time to…
Back to our river metaphor. If a farmer really wants to benefit from a clean source of water, he needs to tap into it! You do too! Once you've found the right page for you, subscribe so you don't miss a thing! These homestead blogs are generally very seasonal, and so if you subscribe, you can be guided throughout the season, learning when to plant peas, garlic, fish for walleyes, and go morel hunting, all very season specific endeavors.
The last thing you should do is get involved. Don't just watch from the riverbank. JUMP IN! If your new favorite source has a FB page, get in on it and ask some questions. Start some conversations. If their site has one, join a forum. Remember, (back to the water metaphor…) like an oasis in the desert, these blogs attract more like-minded people such as yourself. The more connections you make in this homesteading life, even online, the more help you will have to draw from when you're trying to figure out how to pull a kid, change a tractor tire, or field dress a deer!
So, here is a helpful list of Good Web sources… Digital Mentors. Other than Homesteady of course… 🙂 that we have used through the years. Check them out!
Farming and Homesteading
Fias Co Farm – The best goat Site by far!
Sugar Mt – Pigs, lots about feeding and growing
Chicken Thistle Farm – Chicken and Pigs, lots of info on setups for processing, good podcast too!
Hunting and Fishing
Growing Deer TV– Biologist Grant Woods teaches a weekly lesson on Deer and Land management. DONT MISS
Orvis Reports– Orvis uses their extensive guide network to provide up to date fishing reports. very good!
Join our Email List to make sure you don't miss any other part in this series, 21 steps towards a self sufficient homestead
Previous posts in this series:
What Does MT Everest and Mordor have to do with Homesteading
Avoid the Mistake That Will Cost You Your Homestead
How a Hour at the Farmer's Market Can Change Your Life
3 Ways to Find the Secret Spots that Hold More Fish!
How To Fill Your Freezer With Meat Without Owning Any Land…